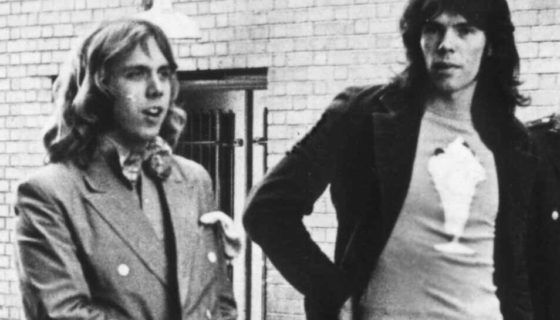 From: Athens musicians help shape political landscape amid controversial election by Dillon Thompson 
UGA students Butch Blasingame and Michael Simpson met in a drama class in 1971. Along with their classmate Bill Wilson, a drummer, and two of Blassingame's musician friends, the students began practicing original and cover songs in a house on Prince Avenue, performing under the name Ravenstone. 
From its earliest rehearsals, the band's message was inherently political — Simpson was a political columnist at The Red & Black and would use his thoughts about current affairs as inspiration when writing lyrics — but the group's interaction with social issues began to increase when a series of concerts brought the members into contact with some of the period's most politicized topics. 
In March of 1972, Ravenstone performed at an on-campus dance in support of equal rights for gay and lesbian students. The concert, which was almost canceled by university officials, raised local concerns due to its potential promotion of sodomy, which was at that time a crime in the state of Georgia. Simpson said the backlash surrounding the event opened the band's eyes to the social issues plaguing Athens and UGA during the early '70s. 
"The thing that struck me is that dancing is truly a fundamental right," he said, "For somebody just to arbitrarily announce, 'Oh, well you can't have a dance because it's for gays and it promotes sodomy, I think that's probably when it really came home for us." 
The band had even formed its own political party, aptly named the "Ravenstone Party," the previous year. 
Between the group's student government coalition — which, according to a 1971 article in The Red & Black, was meant to "provide a party for the counterculture" — and the members' active role in political protests, Ravenstone had become an influential force in Athens. 
"We kind of called it 'the politics of dancing,' and it really was," Simpson said. "Our music was about a good beat and having a good time, but we certainly wanted to put a message into it." 
Following in Ravenstone's footsteps, some of Athens' most successful bands of all time began to speak publicly on political and social issues in the following decades. 
In 1987, the B-52s produced a celebrity-featuring public service announcement for amfAR, The Foundation for AIDS Research. 
Four years later, when R.E.M. released its Grammy-winning album "Out Of Time," the group took a stand on the Motor Voter Bill, which would give U.S. citizens the option to register to vote while applying for or renewing their driver's licenses. The CD box for the record included a mail-in petition, allowing the band's fans to show their support for the bill. 
The petition received 10,000 signatures in three weeks, and the bill was passed into law in 1993.