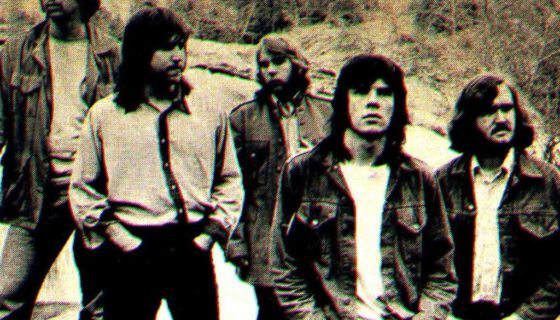 Ravenstone was an early mainstay in Athens, Georgia's internationally acclaimed music scene that later spawned the B-52's, R.E.M. and Widespread Panic. The quintet, known for its rollicking play and rowdy performances, flamed out in the early 70s after generating promising buzz and a loyal regional following. 
Setting what's probably a record for down time by a rock band, the group reunited 30 years later. The move was sparked in part by the inclusion of the Ravenstone song "More Love" on the 2002 Anchor Bay DVD release of Sleepaway Camp 2: Unhappy Campers, a cult horror movie and currently, a cable mainstay, that the band's front man Michael Simpson directed in the late 80s. 
"After the DVD was released I started getting emails and phone calls asking about the band," Simpson recalls. "It seemed like a great time to record." 
The group gathered at a secluded farm outside of Monroe, Georgia, owned by Ralph Towler, the band's keyboardist and guitarist. Towler notes that the farm has another tie to the Athens music scene: Widespread Panic played three of its early outdoor concerts there. 
From the moment the amps were turned on it was apparent that the ravesters, as their fans nicknamed them, still connected musically. Over the next few days the group wrote more than two-dozen songs, then picked 15 of them to record. "It was like choosing which of your children you loved best," says Butch Blasingame, the band's lead guitarist. 
To capture Ravenstone's sound in the studio, the band sought out Jim Boling, an Atlanta producer who has worked with everyone from Jason Bonham and Dave Mason to Ernie Watts, Gladys Knight and Prince. 
In an attempt to approximate the band's live performance sound, Boling decided to record the instrument tracks with the group playing together "live" in the studio, rather than laying down individual tracks one instrument at the time. The songs were done in one or two takes with minimal overdubbing. 
The horn arrangements Boling added to some of the tunes grew organically out of the songs. "I could hear the horns like they were already there," he says. 
Drummer Bill Wilson, an Athens native, agrees. "We're all from the south originally. Growing up, we listened to classic soul bands with great horn players. It's certainly an influence." 
Ten of the band's songs from the sessions made the final selection. The entire BACK ON THE ROCK album took less than a week to record. 
Ravenstone calls their dance rock music "âge-défier" rock (pronounced "azhuh defeeYAY"), literally "age-defying" in French. The band's multi-lingual bassist Dwight Brown coined the phrase. "Rock 'n' roll keeps your soul young," he says. He was inspired by a quote from Jim Cappaldi, the late drummer for Traffic: "Rock is an attitude, not an age."