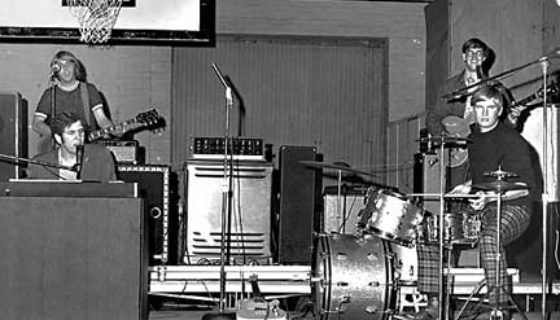 Prior to forming Ravenstone, Butch Blasingame, Dwight Brown and Ralph Towler played together in the band Edifice Wrecks. Below is a conversation about their early group and the music scene in Monroe, Georgia. 
Dwight – Edifice Wrecks was the Monroe group we played in during high school. Ralph, Butcho, and I were in it along with Bill Whitley. 
Ralph – I never would have made it to Ravenstone without Edifice Wrecks, the Dirty Shames or The Aftermath. Once the Beatles hit, kids were forming bands all over Monroe. 
Butcho – This was the time of the early Kinks and the Rolling Stones. We had "Battles of the Bands" regularly. I remember when Dwight got his first Silvertone bass. 
That was a rarity in those days. Most local groups didn't have a bass player in Monroe at the time. 
Ralph – I played with the Dirty Shames. Butch and Dwight were in The Aftermath. Dwight and I began switching back and forth playing with both groups. Along the way Butcho, Dwight and I went through four drummers, we added keyboards, became Edifice Wrecks, graduated from high school and went off to college. 
Dwight – The name comes from the Dudley Dooright cartoons. In one episode, his arch-nemesis, Snidely Whiplash, was the owner of a company named "Edifice Wrecks." 
Butcho – It was a construction company that Whiplash and his moll Natasha had, a company that built bridges with a secret ingredient — dynamite. The dynamite went off and the construction company would build it again, only to blow up again. It was ultimate job security. The "Edifice" was always wrecked. That is until Dudley saved the day by foiling them. Of course, the name is an obvious play on the name of the Greek tragedy "Oedipus Rex" by Sophocles. 
Dwight – The cartoon's creator, Jay Ward, and his crew worked beautifully on so many levels. 
Butcho – Edifice's drummer was Bill Whitley. He later played in the group Phaedra, who were well known regionally, playing dates throughout the eastern half of the US. Phaedra's lead vocalist was Rex Smith. 
Dwight – He went on to a solo career and charted with "You Take My Breath Away" and had a starring role on Broadway in "The Pirates of Penzance." 
Butcho – He was also a host on "Solid Gold", starred in ABC's "Street Hawk" and "As the World Turns" and was Danny Zuko in the original production of "Grease!" 
Dwight – Edifice Wrecks played mostly in Monroe, our hometown, with an occasional gig in Athens, Conyers, Covington or one of the other towns nearby. 
Ralph – In Monroe it was usually the Nowell Recreation Center or National Guard Armory that we played in. 
Butcho – Sometimes we threw in a light show – The "Psychofruit Light Show" – which consisted of whatever lights, strobes, slide projectors, and other effects we could get our hands on. 
Dwight – The band continued through our Freshman year in college. Butcho was at Georgia Tech, while Ralph and I were at the University Georgia. We played an occasional fraternity party at UGA or Tech. 
Butcho – I transferred to UGA the summer after my first year at Tech. I met Michael Simpson and Bill ("Willi") Wilson in a drama class and we formed the band that became Ravenstone. It was a natural thing to invite Ralph and Dwight in. 
Ralph – In the summer of '71 Butch and Dwight came over to tell me that Butch had met a singer and a drummer and they had a house on Prince Avenue in Athens. Seems like we loaded my equipment that same day and went over to jam. It was a special day.