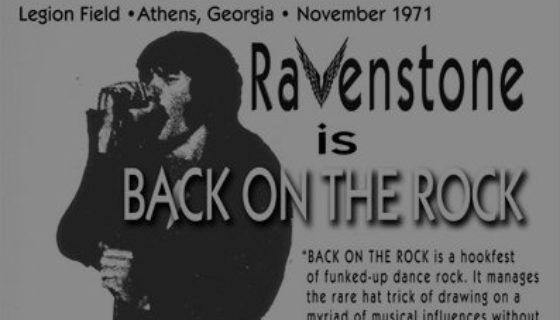 "The hottest new band in Athens, Ga., is actually one of the oldest. After a 30-year hiatus, '70s roots rockers Ravenstone have finally reconvened, and their sound illuminates that of younger Athens stars like Widespread Panic. Jazz horns and flitting flutes create a jam-fest ambience, while sizzling guitars and scarred vocals are all Southern rock." 
Editor's review: music.download.com 
BACK ON THE ROCK is a hookfest of loose, funked-up dance rock. It manages the rare hat trick of drawing on a myriad of musical influences without sounding quite like any of them. 
The band's roots rock, blues and British first wave pedigree blends with old school soul flourishes, most noticeable in producer Jim Boling's seamless horn arrangements on "Oilman," a realpolitik name check on George Bush, Martha Stewart and prison sex, and "John Burrows Died For Our Sins," a rockabilly shout out on the perils of Elvis-size fame. 
Framed by lead guitarist Butch Blasingame's blistering work, the band's rhythm section – bassist Dwight Brown, drummer Bill Wilson and guitarist and keyboardist Ralph Towler – are superb throughout. Frontman Michael Simpson's distinctive baritone and playful falsetto leaps propel the excitement. 
The album opens with the radio-friendly "Drivin' By Braille," a swaggering, up-tempo jangle that shows these guys still know how to kick a party. The band next works its mojo with the blues and soul-tinged "Girl With Something Extra," a song anchored on Towler's keys that is as sensual as it is ambiguous. "Crimes of Passion (In The Funk)" completes the album's trifecta of sexy rockers. 
Other standouts include "Boomer," a bouncy, righteous take down of a generation that has the best line on the album – "We were gonna change the world, but now we find, it's hard just to change our minds." Right said. 
"Transit of Venus" is a finger-popping, slinky horn showcase for Simpson's intimate crooning and Blasingame's tasteful flourishes. "SWAG" looks at the kudzu-like "affluenza" creeping across the American landscape while "Finger Puppets" provides sociopolitical barbs driven by Wilson and Brown's jackhammer beat. "Dogma" closes the album on an uplifting, almost spiritual note. 
Editorial Review: Amazon.com 
5/17/05 – Ravenstone's BACK ON THE ROCK joins new releases by The White Stripes, Beth Hart, Kem, Mercury Rev, System Of A Down, and Van Morrison on the "Most Popular" list of Fresh Music Farm.