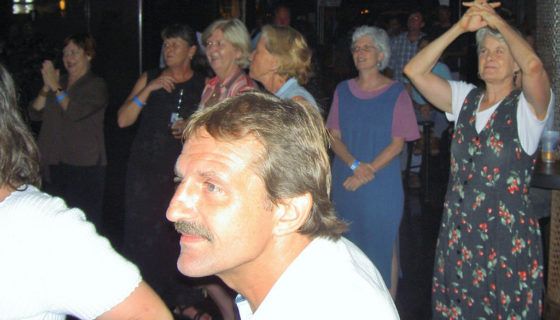 A Strong Recommendation 
From the moment the guitar kicks in on `Drivin' by Braille' with its serious ass-grinding intro over a cascading bed of organ pop, you know this is gonna be a fun ride. And this CD delivers on that promise with some great stripped down, rootsy dance rock brimming with junkyard riffs that are catchy and well constructed. 
Simpson's understated, bedroom intimacy on `Girl With Something Extra' and `Transit of Venus' is a pleasant counterpoint to his roguish vocal charms elsewhere. His warm baritone is often supported by a blend of backing voices in a great rock n roll way, especially on `Oilman,' `SWAG' and the outstanding `John Burrows Died…' where the band cranks it up with driving horns and layered harmonies on the chorus that would do the Beach Boys proud. 
There's an accessible, nonchalant simpatico to this band's music that I like. I give the release a strong recommendation and eagerly look forward to hearing more from these Athens rockers. 
Mandy Vegas 
Props For This Bamfest! 
Wassup. Ay yo trip! By the by, gotta give props for this bamfest by the sultans of ping. It be all wool and yard wide. I'm kickin' it totally bladdered with the first nugget `bout my boy drivin' with one headlight. Then we bangs a left on the second wack track `bout a bootylicious with a little sumin sumin extra. I be bonfoggled by that box social. You figure that diggily sista out, slam me an e. "Oilman" ends with this homeboy upstate droppin' the soap. That's so ill. Kenny boy gonna need ice after that worm salad. "Boomer" breaks down the history of the boom box used caucasionally. In "Venus" our boy is all up in the lounge mode searchin' for the fat rabbit. That's carpe P.M. 
The King Killa McChilla here is "Finger Puppets." It's poppin'! 
Jango Fett Jr. (Californication) 
AN UNEXPECTED PLEASURE 
The no-frills dance rock by this quintet resonates with the power of its simplicity. The CD is brass and scrappy, full of well-crafted songs written and performed by consummate pros. The best song for me is the effortlessly breezy "Girl With Something Extra." The sensual feel of the keys really make the song. 
A welcome return by the prodigal sons of the Athens music scene. 
Jimmy Lee 
And The Wind Cries Ravenstone! 
I think this release stacks up well against comparable early releases by the gods of the Athens music scene – REM's "Radio Free Europe" and "Chronic Town" (with the added advantage that you can actually understand the lyrics on "Back on the Rock") and the B-52's "Rock Lobster" (with the added advantage that Ravenstone actually has some music chop suey to go along with their humorous observations.) It'll be interesting to see where the band goes from here. 
Stoneciper (Third Rock From The Sunni Triangle) 
THE LOST BOYS OF ATHENS ROCK RETURN 
Retro, sloppy, poppy fun. The CD has the direct simplicity of jagged rock that doesn't pander to navel gazing. From track one, this release explodes and the riffs fly. My fave track is "Boomer," which puts a generation under the knife to perform open ego surgery. Ravenstone rules! 
Marion Roach (The Rabbit Hole) 
It's a G Thang (as in "good")!, June 13, 2005 
It's a G Thang, G as in "good." The drill of a lead guitar on steroids, precision drums and bass, muscled-up rhythm guitar. It's all there when track one blows out of the gate. And you just gotta bring the love to "Girl With Something Extra." It's so wack. 
Vinn The Finn 
Yo mama, this rocks! 
Retro rock collides with some funked up new wave. Wow! Dudes, all I gotta say about this CD is – Athens, you've been served! 
Jonny Desai 
Irresistibly Entertaining 
Recalling The Clash's "Overpowered By The Funk," this CD of simple, fractious rock is irresistibly entertaining. A slamming good time. 
Shaleen Moyer 
Some Seriously Frisky Music, June 13, 2005 
I found BACK ON THE ROCK in a stack of CDs on my boyfriend's desk. These guys cook up some seriously frisky music. I liked the music so well I checked Amazon to see if the band had any other albums out. I have to say I love the loony send up of Bush, Stewart and Enron's Kenny Boy on "Oilman" the best. And "Drivin' By Braille" is sexy in a John Waters "viagravated" sort of way. The band's vocalist sounds more sensual than most front men half his age. I give you guys three stars and a big mmmmmmmm… 😉 
Claire Cook 
A RIGHTEOUS RESURRECTION, June 10, 2005 
What a joy to discover this album! I remember this band well. In the early 70s Athens, GA rock world, Ravenstone were the rulers of the roost. Displaying an uncompromising, low fidelity aggression in concert with its loud guitars and force-of-nature vocals, the group kicked up an explosive, three-chords-and-the-truth racket. Like opening the frig door on a steamy August afternoon in Athens, their gutbucket rock was a cool blast of fresh air compared to the already stall boogie and jam bands that dominated the town's embryonic music scene at that time. 
The tag team tandem of Simpson's vocal strut and Blasingame's welt-raising guitar attack — he was the first guitarist in the Athens scene using a stack of Marshall amps — was anchored by the band's rhythm trinity of Brown, Wilson and Towler, who always made sure to bring the rock AND the roll. 
The band's loose and juicy music was – and still is – a pileup of roots rock, sixties, and protopunk elements, smoothed out on this outing with some great horn arrangements by producer Jim Boling that bring out the group's inner white boy funk. These guys may have mellowed a bit with age – who hasn't? – but they still rock with more brains, wit and libido than the White Stripes or the Strokes on their best days. 
My favorite tracks on this album are `Drivin' By Braille' and `Oilman,' (love those horns) although `Finger Puppets' runs a close third. 
BACK ON THE ROCK is a righteous resurrection of a great, early 70s Athens, GA band. I give the CD three stars only because I know, as good as it is, this band can do even better. 
70s Fan, Atlanta GA 
Excellent! 
Ravenstone has the special charisma in its music that will draw you into wanting to listen to it over and over. Fantastic job on creating something that has a hint of the past rock era while at the same time providing a fresh sound that does not follow the boring cookie-cutter sounds of so many of the bands today. 
Locar, Kingsport, TN 
Remarkable In Its Simplicity 
This resilient band seems better than the sum of its parts. Taken separately there may be no world-class music muscle here but working together this band is a well-oiled machine that kicks it with the best of them. BACK ON THE ROCK easily qualifies as one of the more exciting indie rock releases to come down the pike in awhile. 
This band shows no sign of an impending walk into the sunset. Stripped of the layered excesses all too common in releases today, their music is accessible and immediately enjoyable. 
The endearing earworms are the three tracks that close the album. `SWAG' grabs you by the short hairs. It's one of those songs that would be funny if it weren't so sadly true. `Finger Puppets' is a perfect take on the political hubris around us today. `Dogma' sounds like a band that has found itself. As the song built to its crescendo, it left me wanting to hear more from the band. 
BACK ON THE ROCK is remarkable in its simplicity. It's the way rock once was and should be today. 
Andrew Nash (City of Fallen Angels) 
A Voice Of Casual Cool 
A lot has been said about this stalwart band's stripped down dance rock on their BACK ON THE ROCK outing, but the songs that really connect for me are "Transit of Venus" (not sure what the title means but I like it) and "Girl With Something Extra" (not sure what this song is about but I like its playfulness). The tunes feel fresh and have an uncanny charm with repeat listens. Ravenstone's frontman, Michael Simpson, has a voice of casual cool on these songs, like he just crawled out of bed or is just crawling into it with the woman of his dreams. 
Charlene Tidwell 
Riff Raff Rock Is Back! 
This CD of reliable charm stirs up a bracing cocktail of bouncy beats, humorous critiques and trenchant politics. The album blows up with track one, the instant party-favorite "Drivin' By Braille." "Girl with Something Extra" is a smooth aural soufflé that begs the question: what EXACTLY is the "something extra" this girl has? Inquiring minds want to know. The dirty blues-rock of "Crimes of Passion" is definitely in the funk. You can almost smell the incense drifting in the air (that is incense, isn't it?) with "Boomer," with its numerous lyrical references to rock classics and a dearly missed era when "we were gonna change the world." 
In fact, as you listen to the album, if you squint – okay, if you squint and turn the lights down or better yet just turn the lights off AND shut your eyes – it's easy to imagine this great band in concert in Memorial Hall circa '71-'72, when all the best Athens groups could have played together in one night and everyone be home rolling on their waterbeds by midnight. Let's do the time warp again! 
Thanks to Ravenstone for helping us remember how fun rock can be. 
Buckaroo 
Athens Original Bad Dawg Rockers Make Riff-Infected CD 
I saw these guys performing in Athens, GA back in the early 70s at Legion Field and at Memorial Hall, a few years before the city's music scene caught fire. Long overshadowed (and sadly forgotten) by the Athens music gods that followed in their steps, it's nice to see that these boys have lost none of their cheap thrill sexiness or barbed political wit. 
BACK ON THE ROCK provides a glimpse of what might have been had the original band members (all on board again for this outing) stayed together longer. It easily qualifies as the "what if" CD of 2005. 
Mischief seems embedded in the DNA of Ravenstone. They rock for the pure fun of it. "Oilman" is blow-milk-out-your-nose funny all the way from "I'm an oilman living in a big White House" to "Where's the extra virgin oil?" ad-lib at the end. 
The best ear candy here includes "John Burrows Died For Our Sins," with its Brian Wilson harmonies on the chorus, and "Boomer." It's about time someone calls out our generation and puts us in a corner for a time out. By the time the band slips some sha-na-na-na's into Boomer's backing vocals I am so there. My wife loves "Drivin' By Braille" and tells me if I listen closely to its lyrics I might learn something about real sexiness. 
This CD lives up to Ravenstone's early rep as bad dawg rockers. In an alternate universe, this killer set would have been released in 1971 and blown away all comers with its loosey-goosey, riff-infected dance music. It's timeless roots rock that brings white boy funk and bad boy politics to the party. All you need is a keg and chips. 
If the Beatles's REVOLVER is a five, U2's ALL THAT YOU LEAVE BEHIND or Nirvana breaking wind a four, I give this album a solid 3 stars, which is a high compliment indeed. 
The Shadow Knows 
Rockin' good stuff 
Old school rock with a drivin' sound, groovey horns and great lyrics. Like the back says, "PLAY IT LOUD" and you can't but help rock along to a great time with a very tight band obviously having a fun time doing what they do best. The song craft is tight, there's some wonderful political and sexual innuendo and the lead singer can still belt one out after all these years. Fun design and groovey packaging too! From the original Athens band that helped to start it all….PLAY IT LOUD!!! 
Eldon Tyrell (LaLa Land) 
Shake it! 
Ravenstone delivers some serious ass shaking sounds that are both smart and fun. No instructions are needed to operate this album. Just turn up the volume and pump it while `Oilman' learns the joys of prison sex. `Snap your Finger Puppets' to the `Transit of Venus' with `The Girl With Something Else.' Dance rock is alive and well. `Back On The Rock' is fun for the whole body from the mind to the toes, like music ought to be. 
Fred Willard (Down on Ponce, Atlanta) 
Athens Dance Rock Album Of The Year 
While not a perfect album, BACK ON THE ROCK is a perfect hatful of songs for a joy ride to the apocalypse with the radio playing loud enough to blast potholes in the pavement. This exhilarating sludgy pop reminds you that, first and foremost, rock is meant to be fun. 
There are no overproduced sonic concoctions here. No hint of angst rock or stare-at-your-shoes emo either, just pithy riffs anchored by rhythm guitar, bass and a solid drum kit, then blended with organ, piano and some smooth horn arrangements. It's all simple and direct. Every song is punctuated by Simpson's playful baritone, which displays the kind of sexiness that's only possible from a lifetime of experience. 
Many bands today strive to channel the spirit of 60s rock. These rockers don't have to try. Their music feels like the group just woke up from suspended animation. Their songs are timeless, classic and fresh. Long live rock and long live these guys. 
Shelia Hughes 
These Dudes Rule! 
Wow! I'm a big fan of the Athens music scene. Widespread Panic is totally the greatest and I like the B's and of course R.E.M. When I heard that Ravenstone was an Athens band I had to check them out. This album rocks solid. I love the stripped down feel of it. The lead guitarist is awesome! They have a very original sound. Drivin' By Braille and Oilman are two outstanding tracks but the album is very diverse. I love the use of horns in some of the songs. I highly recommend this album to anyone who wants to learn more about the early Athens music scene. 
Paul M. Davis