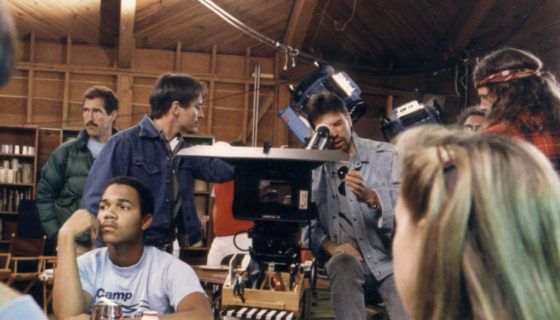 With the release of "Sleepaway Camp 2: Unhappy Campers" on DVD in late 2002, fans of the cult comedy horror classic were treated to a rare Ravenstone song, "More Love," which invoked the sound of the band from the early 70s. 
What follows is an interview that Michael A. Simpson, lead vocalist for the group and the movie's director, did with John Klyza, the Australian-based webmaster for the www.sleepawaycampfilms.com web site. It's reprinted here with his kind permission. 
Michael Simpson: The Ravenstone Interview 
(Interviewer's note: Due to the interest sparked by Ravenstone's song "More Love," which is a bonus on the Unhappy Campers DVD, the film's director, Michael Simpson, agreed to an interview about the band, the early days of the internationally known Athens music scene and his own music background. Prior to the interview, I was given some press information and photos.) 
JK – Most campers only know you through your movies. It'll probably come as a surprise to them to learn you had a career in music before you became a movie director. 
MS – I started out playing bass in a garage band when I was 14. Early on, we played at the Enlisted Men's Club at Fort Gillem. That's an Army Base on the outskirts of Forest Park where I grew up in Georgia. None of the guys in the band was old enough to drive so my dad drove us to the club and then picked us up when we finished playing. 
JK – That's too funny. 
MS – Since we were minors working in a bar, the club manager wouldn't let us off the stage without an escort. The waitress even had to walk you to the toilet. She'd wait at the door while you made your offering to the porcelain gods then she'd walk you back. You can imagine the kidding we took for that from the soldiers in the bar but they seemed to like our music. 
JK – Let's talk about Athens, Georgia, in the early 70s when Ravenstone was formed. Since the city later became an internationally recognized music scene, I think a lot of people are interested in how it all began. 
MS – The Athens music scene was embryonic in the early 70s. It was nothing like it became after the B-52s, then R.E.M., put Athens on the map a few years later. And of course, after that, Widespread Panic also came out of Athens. And one of my favorite bands, Pylon. 
JK – That's an incredible roster of bands to come out of such a small city. 
MS – There are several other world-class bands that came out of that scene over the years. Early on though, there were only a handful of bands from Athens and clubs to play in. 
JK – Ravenstone was performing its own original music in Athens in '71. The band predates the B-52's by what, five years or so? 
MS – Yeah, something like that. 
JK – The band is really like one of the godfathers of Athens rock then. 
MS – (laughs) Or maybe the bastard Uncle or something. 
JK – How did Ravenstone start? 
MS – I was attending the University of Georgia in Athens where I was studying film. Butch Blasingame, Bill Wilson and I were in a drama class. I'd met Bill a few months earlier and had jammed with him and really liked his drumming. He had a lot of jazz and big band influences, which was rare for a rock drummer. Butch was a lead guitarist and he recruited Dwight Brown, the bass player, and Ralph Towler, who played guitar and keyboards. The three of them had previously played together in a group from Monroe, Georgia, which is about 30 miles outside of Athens. 
JK – You were the lead vocalist of Ravenstone. One press clipping described you as "nubile." 
MS – Yeah, I spent years living that one down. (laughs) 
JK – Tell me about the band's name. Charles Burel's article said Ravenstone was the name of a field in Germany where they executed witches during the 15th Century. 
MS – It's mentioned in the play "Faust" by Goethe. The scene is set at night in an open field. It begins — "What weaving are they round the Ravenstone? Mephistopheles. I know not what they are…" 
JK – That's a pretty literate name for a rock band. Why'd you choose it? 
MS – We were studying the play in class. It seemed like an apt metaphor. 
JK – A metaphor? For what? 
MS – Being young and full of ourselves, we had lots of passion and idealism. Basically, we wanted to slay the prejudices we saw around us or some such nonsense. 
JK – Do you remember Ravenstone's first performance? 
MS – It was for a party in this large, old southern gothic house on Milledge Ave. About fifty people were there. At one time a sorority had rented the house so we called it the Eata Theta Pi gig. Pretty juvenile humor. 
JK – From the very beginning, you guys were into politics in a big way. 
MS – It was the height of the Vietnam War. We opposed the war and did what we could to help stop it. As a band we were also involved in things like voter registration, freedom of expression and human rights issues. Social and environmental justice. Campus politics. And some basic hell raising. Lots of that, actually. 
JK – The article written by Rex Granum in the Atlanta Journal & Constitution newspaper, "Five Set Politics to Music," stated that Ravenstone was forming a political "coalition" party at the University of Georgia. This was November '71. 
MS – The band rented a large house on Prince Avenue where we lived and rehearsed. Rex showed up there for an interview. I think he was intrigued by the idea that a bunch of longhaired musicians could actually make a complete sentence. Rex later served in the Carter White House Press Office. 
JK – The article mentioned you guys flew an American flag in front of the band house. What was that about? 
MS – There were people who thought you couldn't have long hair or oppose the war and still be patriotic and love your country. Bill, our drummer, suggested we put the flag up to show you could. We considered ourselves patriotic. We just disagreed with the direction the country was heading. At that time, a lot of folks did. It's ironic but you can see an echo of that today in America. There's a radical right element in our country today that believes you can't criticize your government, that doing so is unpatriotic. Of course, that's bullshit. 
JK – The AJ&C had the largest circulation of any newspaper in the southeastern U. S. and the Ravenstone article ran on Thanksgiving Day, their largest print day. Lots of people must have read that story. 
MS – Yeah, someone once estimated that more than a million people read that article. 
JK – Ravenstone had only been a band a few months. Yet, you already had enough notoriety to have a write up about the band in a major newspaper. That's pretty amazing, really. 
MS – There weren't many bands playing their own music from Athens at the time, especially ones who had something more to say other than "let's boogie," so we quickly developed a following. Ravenstone was able to fill up some of the early Athens clubs like Between the Hedges, Fifth Quarter or Mother's Moustache where they'd pretty much let us play anything we wanted as long as people showed up and drank beer. We also did some concerts early on, on campus at the student center and Legion Field, which got us exposure. 
JK – Your first concert at Legion Field sounded wild. 
MS – Legion Field is at the bottom of a long, slopping hill that has several large dorms stacked up the side of it. The students in the dorms spilled out to hear us play. We rented part of the P.A. system that was used at the first Atlanta International Pop Festival. It was huge. We were told that you could hear us all the way to Little Five Points a mile or so away. 
JK – I was told your music was responsible for some unintended pregnancies that night. 
MS – (laughs) That's an urban legend that seems to have taken on a life of its own. A couple got caught getting their freak on in some bushes or something during the concert. That's how the story got started. 
JK – How did the band's politics evolve? 
MS – The idea was to start a campus political party called Ravenstone Coalition. After the AJ&C article ran, I met Chuck Searcy, a Vietnam vet. Chuck's one of the most honorable people I've ever known. Like many Nam vets, he came home disillusioned with the war. He helped to start the University's VVAW chapter. 
JK – VVAW? 
MS – Vietnam Veterans Against the War. Chuck introduced me to another student who was interested in joining us to form our party. Dwight Brown, our bass player, went with me to the first meeting that was held at Chuck's house in Five Points in Athens. There were about 20 students there. 
JK – Why were you guys so interested in student politics? 
MS – Basically we wanted to shift the paradigm. 
JK – Shift it? In what way? 
MS – Up until that time, student government was controlled by two factions — white bread fraternities and sororities that voted as a block, and a south campus faction that was dominated by conservatives whose idea of a good time was sticking their fist up a cow's ass. Both groups were so Neanderthal they wouldn't even nominate a woman to run for any executive office other than secretary. 
JK – You gotta be kiddin'. 
MS – Coalition was different. We encouraged everyone to participate in the party. We had minorities, international students, Gays, Lesbians, feminists, Vietnam vets, hippies, vegans, handicapped students, you name it. It was like Noah's Ark. We had two of everything. 
JK – Were you successful? 
MS – Coalition's first campaign resulted in a woman being elected vice president of student government. The next year we won control of the student senate and sweep the executive offices.  Following that, we elected the first openly gay man as student body president. It was a good run.
JK – This is like a southern version of Wild In The Streets. 
MS – Almost overnight, student government went from being a social organization to actually dealing with issues important to students. We passed a no confidence vote in the University President who was unpopular. That caused a political dust up state-wide. We were invited to meet with then Governor Jimmy Carter to discuss it. Carter told us during the meeting that he planned to run for President. And he publicly supported our right to pass the condemnation, when the administration claimed we didn't have the right.
JK – Now there's a man who had a vision of where he was going. 
MS – President Carter is one of the smartest and most honest Presidents our country has ever had. Even his detractors admit he's been our best ex-President. I was privileged to attend his Inaugural in 1976. I also interviewed him a few years later when I was producing and directing the "Portrait of America" series for Turner Broadcasting. 
JK – I guess the moral about Ravenstone and the Coalition Party is political activism can make a difference. 
MS – Absolutely. Once we were elected, another thing Coalition did was to invite Tom Hayden and Jane Fonda to speak on campus, which really put a burr in the saddle of campus conservatives. I was asked to be Jane's photographer for the day and got to spend the afternoon with her. She was one of the most beautiful women I'd ever seen. I had schoolboy visions of Barbarella in my head for days. 
JK – I noticed on Coalition's political platform your support for funding of the University radio station. 
MS – Yes. We supported the feasibility study for the radio station that became WUOG. 
JK – WUOG is credited with helping to break the Athens music scene by showcasing the emerging bands in it. 
MS – I think you could say that WUOG was a major factor, yes. 
JK – Ravenstone really impacted the music scene in Athens, then, both through its music and through its politics and its support for the campus radio station. 
MS – The main thing we did was have lots of fun. It's like that line from the song by Commander Cody & His Lost Planet Airmen –- "There's one thing I've never done, I've never had too much fun…" 
JK – During this time you were elected a student senator. You also regularly wrote an editorial column for the campus newspaper and another one for a city paper. 
MS – Yes, The Athens Observer. Pete McCommons was one of the editors and owners of the paper at the time. Pete is now the editor and publisher of The Flagpole, which is an influental Athens news weekly that covers the music scene there. 
JK – Geez, when did you find the time to go to class? 
MS – If you saw some of my grades it was pretty apparent I didn't. (laughs) I spent most of my time making student films, playing music and rabble rousing. 
JK – I noticed during that period Rex Murphy, the Pulitzer prize-winning Editor of The Atlanta Constitution, quoted you in the lead of an editorial he wrote in that paper. Something you had said about student apathy. 
MS – It must have been an awfully slow news day. (laughs) Actually, I felt it was important when all this was going on not to take myself too seriously. That would've killed it. 
JK – One of my favorite photos of you is the one where you appear to be signing an autograph or something and you have a tee shirt on that reads S-H-I-T. 
MS – That was my Sam Houston Institute of Technology tee. (laughs) 
JK – Yeah, right. 
MS – These days when you have performers stapling their balls to their leg on stage, a shirt like that is no big deal. But back in the day, it caused a ruckus when I wore it during a performance on campus and some prom queen complained to the administration that she found it offensive. 
For me, it was a freedom of expression issue. I asked the Dean of Student Affairs how do you know it doesn't stand for Sam Houston Institute of Technology? 
The silliest part was after the brouhaha the editors wanted to put the photo in the campus year book only they had to get permission from the administration to do it. After some debate, the Dean allowed them to put it in. It ran as a full page that year so I guess I had the last laugh. 
JK – I also found this letter very interesting. 
MS – Which one? 
JK – The one printed in a newspaper and signed by the band with the headline "Sweet Cream." 
MS – There had been a rape on campus the same night as some reverend held a prayer vigil in front of Effie's, the local house of prostitution, trying to shut it down. The articles ran side by side on the front page of the paper. It seemed sadly ironic so we wrote this letter and quoted "Sweet Cream Ladies," a song by the Alex Chilton and the Box Tops. Alex Chilton's music was an early influence for me. 
"Sweet cream ladies forward march, 
think what you're providing, 
sweet cream ladies show your starch, 
what's the use of hiding, 
tell the socialites to look the other way, 
it's instinctive stimulation you convey, 
it's a necessary compunction, 
for those who get tired of vanilla every day…" 
JK – The earliest reviews of the band noted Ravenstone's original music. Most groups don't start writing their own music right out of the gate like that. 
MS – Although we did some cover songs, early on, Ravenstone was really all about our own music. 
JK – One critic called your original tunes "tasty." 
MS – Sounds like he was doing a restaurant review. 
JK – The band's music was also described as "earotic rock." I loved the spelling. How did that description come about? 
MS – I think it came from me humping a microphone stand one night in concert or something. 
JK – Tell me about the Liberation Dance, which one article described as the first openly gay dance at a Southern college. That got a lot of press coverage. 
MS – Some gay students wanted to hold a dance in the Memorial Hall Ballroom on campus and have Diamond Lil, a female impersonator, perform, but permission was revoked by the Dean of Student Affairs on the grounds that the University could be charged with aiding and abetting a felony -– sodomy. 
JK – It sounds like the Dean thought the students were going to have an orgy not a dance. 
MS – The students took the case to court. It ended up in Clark County Superior Court. 
JK – What happened? 
MS – When the Dean testified the defense lawyers cut him up like bait in a tackle shop. The judge issued an injunction forcing the University to allow the dance at 5pm the day of the event. 
JK – I understand that other bands were asked to play and refused. You guys weren't afraid to get involved in such a volatile situation? 
MS – The committee sponsoring the dance asked us if we'd perform. They were trying to broaden student attendance to the event beyond the gay and lesbian community. We were warned that there could be trouble at the dance. 
People asked us at the time why heterosexual guys would play a gay dance. Our answer was "why wouldn't we?" For us it wasn't about sexual orientation. It was a human rights issue. Why shouldn't everyone be allowed to dance? It sounds pretty silly now but at the time, there were actually those who thought some people shouldn't be allowed to. 
We opened for Diamond Lil who put on a great show. As I recall, we donated our fee back to the committee to help pay for their legal costs so we performed for free. 
JK – This was the dance where the band was harassed by the Klan? 
MS – That night, just before we performed, an older white man came up and said the Klan was unhappy about the dance and we should watch ourselves if we knew what was good for us. Some silly shit like that. He then said that they knew where we lived. I think at the time I sort of laughed it off. Then he described the car my girlfriend was driving. It didn't seem as funny then. After the concert, we went outside to discover that the event security had curiously disappeared early. We found a card from the Klan on the windshield of our bus. 
JK – A card? 
MS – A printed card with the Klan symbol on it. It was their way of trying to intimidate us. I remember Jimmy Ellison, our roadie, got kind of spooked about it. He was from a place in Georgia where the Klan still painted their symbol across the roads at the county line. Ralph was like, fuck it, let's go find something to eat. He kept the card as a souvenir. He still has it. 
JK – The photo of you on-stage wearing a shirt with the letters 666 on it. When was that taken? 
MS – A concert at Memorial Hall in '71. 
JK – Some people claim that's the numerical name of the Anti-Christ. 
MS – I know that 666 and the whole "mark of the beast" thing became synonymous with metal bands later on. However, when I did it in the early 70s it was really more about making a statement about the difference between religion and spirituality. 
JK – What's the difference? 
MS – For me, religion is essentially symbols and dogmas created by man and that much of the world's strife is a result of the fanaticism attached to those artifacts and belief systems. That's my personal opinion. I'm not speaking for the band. 
Spirituality, on the other hand is, for me, about Kirkegaard's "Leap of Faith." Communing with the Unknowable. 
JK – The Unknowable? 
MS – The Universal Creator that I sense as being both a noun and a verb. In other words, an on-going, active experience. 
JK – I notice you don't use the word "God." 
MS – It's an overused and under appreciated word, one that's often linked with disparate man-made symbols and dogmas in many people's minds. However, you can use it if you wish. 
JK – How does this relate to the number 666? 
MS – The point I was making at the time is that the number 666 is just that, a number. A man-made symbol. Anything else about the number is just something some person later injected or infused into it. The number has no power unless you give it power. Some religious scholars and theologians believe that the number was a code that stood for Nero, the Roman Emperor. There's even an argument about whether the number is actually 666, since 616 and 665 also appeared in ancient versions of the text. I actually have a cell phone number with 666 as the prefix. I'm sure some people would get loosey goosey about that but it doesn't bother me in the least. 
JK – The shirt in the photo also had an upside down cross, which some people associate with Satanism. 
MS – That's another good example of how a symbol can mean different things to different people. In Christian tradition, one of the disciples, Peter, asked to be crucified upside down because he felt unworthy to be crucified in the same manner as Christ. In that tradition, the upside down cross is an apostolic symbol representing Peter as the holder of the keys of Heaven. So you can see, again, it depends on your point of view and what power you decide to give the symbol. 
JK – I was impressed by the musical influences for Ravenstone mentioned in Burel's article. They weren't the usual ones for bands from the southeastern U.S. during that time. 
MS – Yeah, we enjoyed covering songs by some of those groups. 
JK – From what I read, the original line up of Ravenstone broke up acrimoniously just as you were on the cusp of really doing something with your music. You guys had gone into the studio to record your first album. What happened? 
MS – We were five young, very head strong and passionate people so there was always a lot of turmoil between us. Ralph once said that any day the five of us could get in a room without some of us ending up wrestling around on the floor was a good day. (laughs) Of cause, he was joking. It was never really that bad but at times I'm sure it seemed like it. But creative tension isn't necessarily a bad thing. 
JK – When the original version of the group disbanded, who left? 
MS – Bill and Ralph exited, then Dwight followed a year later. Butch and I continued the group with various other musicians until '74. But the creative energy dissipated after Bill, Ralph and Dwight left. It was never the same, really. I mean, we played with some other great musicians, like Greg Veale, Randy Delay, there were several others. But we lost the creative spark and originality that marked the first edition of the group. It became just about gigs and money. No passion or originality. 
JK – Let's talk about the group today. The original band members are recording a CD and plan to perform live again? 
MS – We decide to get together and jam a bit at Towler Farm in Monroe just to see how it felt. We first did that in the late 80's. We ended up writing about 20 songs in five days. 
JK – In the lyrics to "Boomer," you take a generation to task in a pretty humorous way. I love the line –- "we were gonna change the world, and now we find, it's hard just to change our minds…" 
MS – The boomer generation has been a disappointment. We started out with such passion and conviction. Now the only passion we have is for our SUVs and 401(k)'s. 
JK – Is that a mandolin I hear in "Boomer?" 
MS – Ralph decided to throw that in when we were in the studio. It was a great idea I thought. I love Ralph's work. He always brings something interesting to our music. All the guys do, really. That's why it works. 
JK – Who is on vocals? 
MS – Dwight, who we call "smooth touch," Ralph and myself. We did the vocals in one take. 
JK – The band members are spread out in five different states now. How do you rehearse and record? 
MS – Butcho is a tech wizard so he guided the band in finding the right hardware and software so we can create and exchange musical ideas over the net. Then we get together to rehearse. 
JK – What's the band's writing process like? Is there one set way you guys write material? 
MS – All of us have ideas and contribute and we all share credit equally on the songs. It was a decision we made back in the 70s when we originally played together. I write the lyrics and sometimes I come up with a melody that I pass along to one of the guys. Sometimes Butch comes up with these insanely addictive guitar licks that he passes along to me to do lyrics. Dwight, Ralph and Bill also come up with great song ideas that they pass around. But we don't consider anything to be a Ravester song until all five of us sign off on it and contribute to it. 
JK – Your logo, the raven on a rock. Great design. 
MS – That was taken from a poster for one of our performances back in the 70s. We decided to keep it. It just felt right for a bunch of middle-aged rockers to have an old, fat bird as a logo. (laughs) 
JK – I understand that this is the first time you spoken at length about Ravenstone since the 70s. 
MS – It was a door I walked out of with the intention of never walking back through. 
JK – What made you change your mind? 
MS – We're at points in our lives where we're all interested in playing together again. The five of us are remarkably close friends. We're like brothers. When I was asked if I was interested, I said I'd only do it if the five original members were interested and I would only continue to do it for as long as we all us stayed interested and it was fun. 
JK – The band always seemed to be about more than just your music. What do you think your message is today? 
MS – (laughs) Probably that you're never too old to get up and shake your booty. They'll be plenty of time to lie down when you're dead. That sounds like a lyric idea for a song (sings) – the dead can't dance but you can…